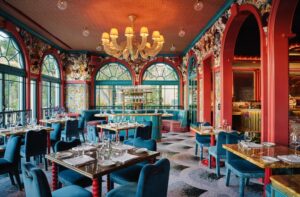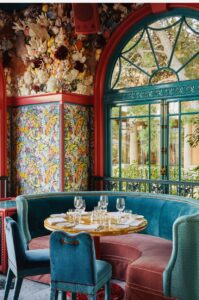 New Mayfair Supper Club, Belaggio Hotel, Las Vegas is the toast of the town–that's what Town and Country Magazine wrote in its March, 2020 article about the new Vegas "Hot Spot". Well, with the over-the-top and, somehow still classic, design of Martin Brudnizki, how could it be otherwise? One wouldn't expect to see grand glass wall panels etched with jelly fish in a desert town, but there they are. To go with these marvelous panels are fabulous Venetian-Glass chandeliers that look rather furry and oceanic at the same time.  Brudnizki called upon Christa's South Seashells Christa Wilm to make up 30 giant panels to go with these ocean-inspired design elements.
"One of the most amazing commercial design projects ever," Christa said about working with the Brudnizki team. "It was challenging to work with the strict time-constraints placed by MGM management," she continued, "but the entire team at the Belaggio buckled down and made it happen.
"A difficult part was to know how much coral, shells and giant Sea Stars to acquire from my many sources. And it was certainly challenging to get the 8′ by 5′ panels safely delivered. "I worried about those giant panels, and all our hard work, bumping across the width of this great country of ours, and there were some near disasters along the way, but we hustled, did what we had to do, and we got them up properly and in time forvthe supper club grand opening New Years Eve.
"After the initial call from Martin's office I made a sample board and sent it up to the New York. Thankfully, the first sample was a hit. My best talent, learned over my decades of work, is to read a client's vision. I take a very organic view of design.   I know the fabulous Victorian shell designs used in British follies, and the tedious work of antique seashell work all around Europe, but my main inspiration comes from diving in the waters off my home in South Florida.  Brudnizki and company loved the bold colors and largess of red Sea Fans, Giant Sea Stars (20" across), the elegant, rose-petal-like Merulina and Poca corals, the magenta Chimney Pipe Corals and the clean, crisp Branch corals I suggested. The colors in the adjoining wallpaper had gorgeous, deep reds, greens, blues and purples in it, so I added masses of lilac-colored Mexican Barnicles, big slabs of Blue Ridge Coral and loads of Pectin shells in all the colors of a rainbow. Of course pearled shells played a large part in the design. Split Nautilus and giant, pearly Trochus and Turbo shells played a large part in the design. Coquillages has never been so exciting.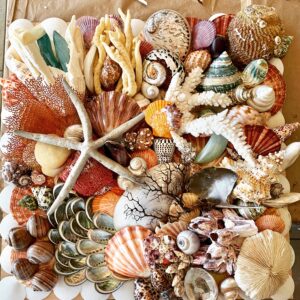 "Even with all those colors and bold activity the design was cohesive. The colors are all natural so, like a bunch of garden flowers, they melded.  When we use natural colors God provides, it works every time.
"I had a great team with me. We rented a big house, with a pool we never used but a kitchen we did enjoy. Then we worked sun up to sun down and just made it happen within the eleven-day time span we had allotted. We were quite proud, as after the shippers dropped the pod the panels were in on the way across country, there was more than enough work to do to get the panels up and looking boffo.
"Both MGM and Brudnizki people were wonderful. The entire experience was nerve-racking but absolutely marvelous. It was the biggest job Christa's South has done in its 25 years of existence. I now know that we can handle anything."
Christa's South Seashells has done several commercial installations.  The Breakers Hotel, Palm Beach, has a large, Health Goddess, Hygiea head with shell encrustation in its spa.  Christa did loads of work for the Faena Hotel, Miami Beach, including two large shell-encrusted columns by the Ocean Bar and 34 large crowns that are all around the hotel corridors and in the suites.  CSS made a beautiful, organic-style mirror for Little Palm Island resort and is now working on a grand fireplace for the dining room at the historic Gasparilla Inn, Boca Grande, FL.